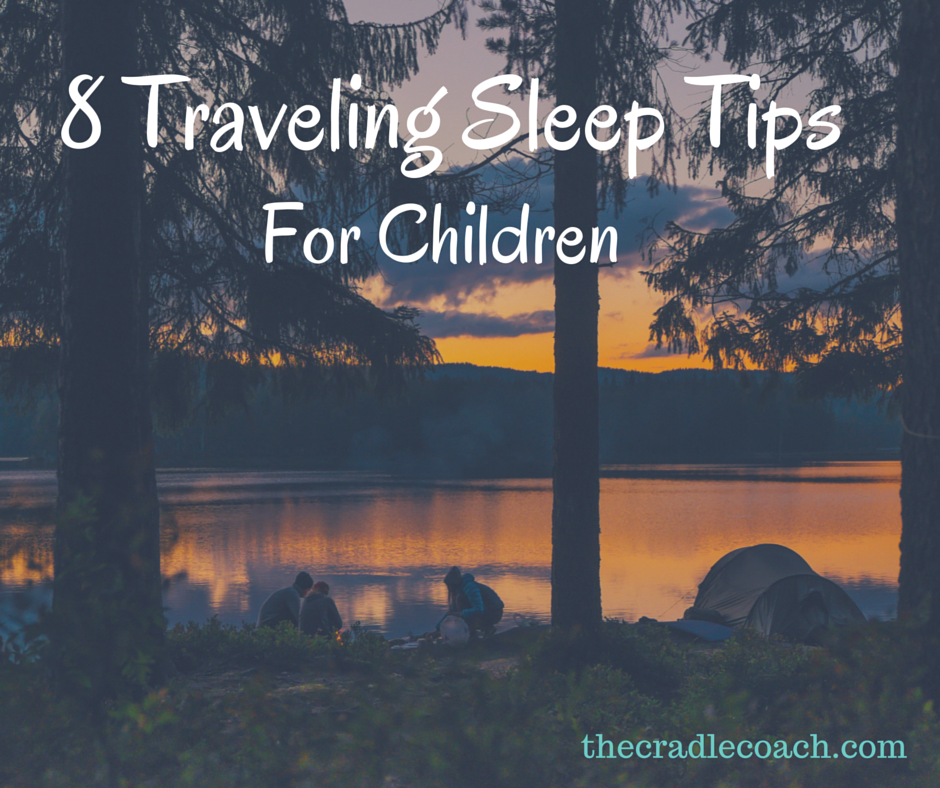 It's that time of year again! Whether you're hitting the beach or taking a road trip across country, if you're the parent of small children, you're likely wondering how your vacation will affect your kids' sleep.
With the right attitude and a little preparation, you'll probably find that your summer vacation – with all of the excitement and activities – might actually help your little ones sleep better instead of worse!
Here are eight tips to help your whole family get some sleep while traveling.
Set Expectations
If you have older toddlers/kids, prepare them for the trip by talking about their sleep arrangements ahead of time. Explain to them that while it's fun to go on trips, they are still expected to follow the bedtime rules. Setting expectations before your trip can go a long way to ensuring your kids stay rested!
Stick To Your Routine
The younger your children are, the more you'll want to try to stick to their routines as much as possible. As you probably know by now, babies and toddlers thrive on a consistent schedule, and following that routine while you're away from home can be the key to a stress-free vacation. For example, try to schedule car rides during naps (if your little one is a good car sleeper), and make an effort to keep his bedtime (and bedtime routine!) as consistent as possible. That means bring along whatever you use at home for bedtime – including books, music, and special lovies. (FYI: Most babies/toddlers will wake up at their regular time even while on vacation, but if they do sleep in a little, try not to let them sleep too late! Doing so might throw off the rest of their day and lead to a sleepless night!)
Be Flexible
We know it seems contradictory to ask you to be flexible while sticking to a routine, but we recognize that it's impossible to be 100 percent consistent all of the time, especially on vacation. If you have to skip a morning nap or trade a crib nap for a baby-wearing nap, that's OK! Just try to make up for that inconsistency during the second nap, or by compensating with an early bedtime that night. Being flexible not only teaches your child to go with the flow, but also helps create a stress-free vacation!
Recreate The Sleep Environment
This is probably one of the most important things you can do while on vacation! To help your child feel like she's at home, bring along her bedding and favorite blankets and lovies. If your child sleeps in a dark room at home, try making her vacation room as dark as possible, too. (Here's a tip: buy a set of inexpensive, dark sheets to put over the windows.) And, if your child uses a white noise machine at home, bring it on vacation! (There are several white noise apps you can download for your tablet if you don't want to bring your white noise machine.) These are some of our must have baby products you won't want to leave home without!
Travel At Night
If you have to travel a long distance and your child is a good car sleeper, driving at night is a great option, especially on the return trip when you can transfer them from the car to the bed with little interruption.
Put the Oldest To Bed First
If you're kids have to share a room while you're on vacation, try putting the oldest to bed first to avoid bedtime parties. Wait until the youngest has been asleep for a good 20-30 minutes and explain to your oldest that being able to stay up late is a privilege, not a right.
Avoid Sugar Before Bedtime
This might go without saying, but try to avoid a lot of sugary treats before naps and bedtime. It's natural to want to indulge while on vacation, but too much sugar can affect your child's sleep patterns and make for a crazed bedtime.
Taking a Plane Ride? Stick to That Bedtime Routine
We've already mentioned this, but it's important to stick to your bedtime routine when you're traveling by plane. We're not going to sugarcoat it – it might be hard for your child to fall asleep in the air, but sticking to the routine and talking about your expectations will go a long way in ensuring your child will eventually get some rest while traveling. For older kids, consider bringing along noise canceling headphones and playing light white noise, and, if he or she will tolerate it, a sleep mask. (If you're concerned about jet lag, check out these tips from A Mother Far From Home.)
We hope your family has a fun (and relaxing!) summer vacation lined up! If you return home and find that sleep isn't quite what it used to be, give us a call or reach out to us via our website. We'd love to help you develop a plan that gets everyone sleeping soundly.