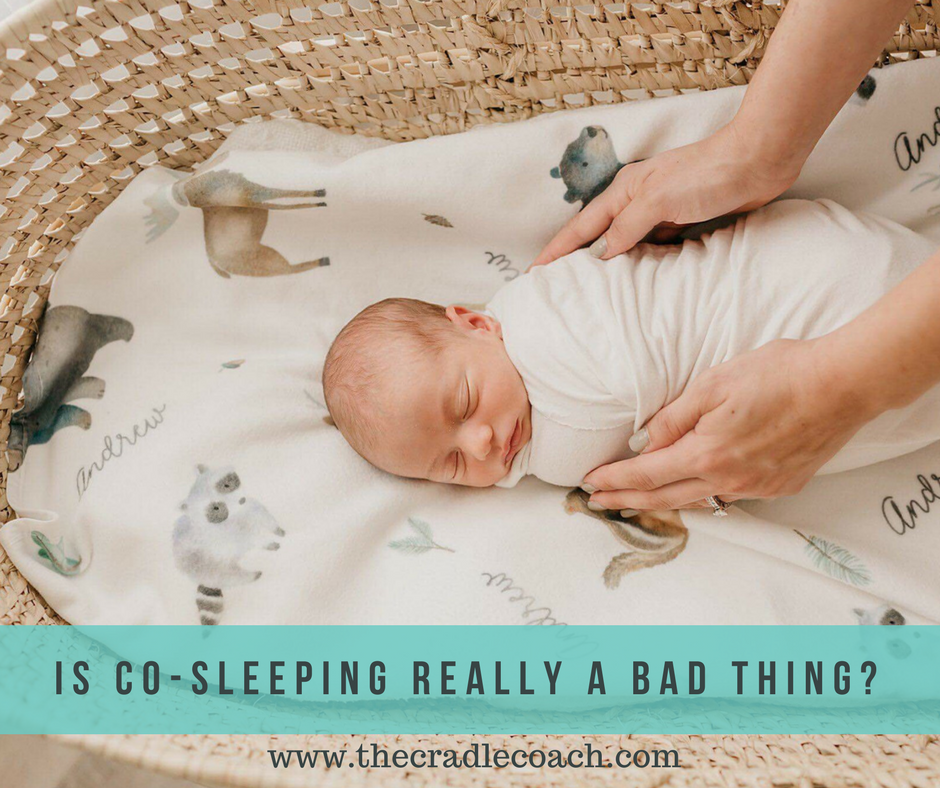 What does the term co-sleeping mean to you? When we hear the term co-sleeping we often think of a baby sleeping in a bed with his/her parent(s). By definition — according to Wikipedia —"co-sleeping is a practice in which babies and young children sleep close to one or both parents, as opposed to in a separate room." The AAP (American Academy of Pediatrics) says "infants should sleep in parents' room, close to parents' bed, but on a separate surface designed for infants. Ideally, for the first year of life, but at least for the first 6 months." Co-sleeping however also can simply mean the baby is sleeping in the same room as the parents but NOT in the bed with them – in their own safe space in the bedroom. 
Okay – so if the AAP recommendation for safe sleep and the definition of co-sleeping don't seem all that different, is co-sleeping really a bad thing?
Co-sleeping gets a bad name. We too often hear stories on the news about how co-sleeping resulted in the death of an infant. This is not only so incredibly tragic, it is also preventable. The truth is co-sleeping is not necessarily what leads to most infant deaths when the baby is sleeping in their own space with mom and dad. What the cause is when the baby is in your bed without protection from anything landing on the baby or suffocating the baby during sleep. Sleeping in the same bed as your baby can actually increase their risk of SIDS. The AAP clearly defines that babies should be close to parents but here is the key information…. on their own surface especially designed for infants. 
Here are some safe spaces we recommend for babies to sleep in that can be perfect for room sharing:
The Arm's Reach Concepts Mini,
We always recommend safe sleep! So while we would always caution against sleeping in the same bed with your baby who is under 6 months old, we would encourage room sharing for those early infant days. Keeping baby close until you are ready (and baby is capable) of a more independent sleep environment is not only the AAP's recommendation, it's ours as well. If you have a baby over 6 months old that you want to start sleeping in your bed with, by all means you are the parent and you have every right to do YOU. Do we recommend this? No. ha we wouldn't be sleep consultants if we did. But we encourage every parent to stand firm on their hearts desire for their children. Our sleep plans always account for safe sleep practices for your baby or toddler. So if you are not sure where to start or you have a toddler sleeping with you and are ready to make the transition…start with us over at  The Cradle Coach. We would love to work with you to creating a healthy and safe sleep environment while introducing your child to a gentle routine!
Sweet Dreams,
Maeghan Spurr
maeghan@thecradlecoach.com