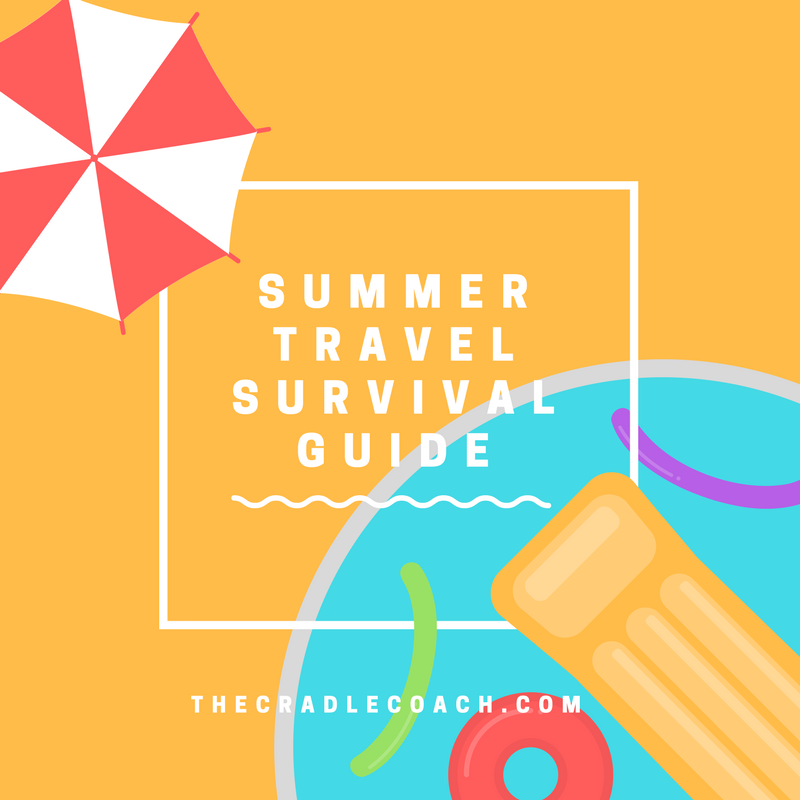 Now that summer is in full swing you have likely taken a vacation or will be before the summer is over.  My family and I recently got back from a trip to Chicago for a wedding and then we took a drive over to St. Louis to see the rest of our family.  The trip was a whirlwind that involved two plane flights, a six-hour car ride, and two hotel room stays with a 1 and 3-year old.  Needless to say, my husband and I survived (since I am here to tell about it)!  At home we have a very predictable, routine life and like anyone who has traveled with young children knows, a lot of that goes out the window when you're out of town.  I wanted to write this blog post to let you know that all is not lost when you go on vacation and there are things you can do to maintain some familiarity with the schedule that your kids are used to at home.  They will still be rested and able to happily partake in all that you have planned for.  If your kids are like mine, when they don't get the sleep they need (plus all of the additional activities and stimulation when on vacation), the behavior and mood swings can be unpredictable and make you want to hightail it back home.  The following tips will aid in making your vacation one to remember for all of the fun that was had and the memories that were made.
When traveling, here are a few tips to keep your baby/toddler on a sleep schedule as best as possible.  It will not be as perfect as home, things will come up, and children often aren't comfortable in a new environment right away.  To help the transition, you can start by implementing the following things: 
If your baby will be in a pack-n-play while traveling, have your baby sleep in the pack-n-play during naps a week before leaving.  This will ensure a comfortable and familiar sleeping environment for your baby. 

If you have a toddler, I suggest buying the Intex Inflatable Travel Airbed. (I'd also recommend getting the Intex Quick Fill AC Electric Pump since the hand pump it comes with takes a while to blow it up.)  It's very affordable and will fit in an extra duffle bag or inside a suitcase when deflated.  The mattress portion of the bed also fits a standard crib sheet so make sure to bring one from home.  I bought this for our recent trip after a friend recommended it and it was perfect.  My daughter was definitely outgrowing a hotel pack-n-play/crib and this toddler bed took away the worry I was having about her sleeping on a high hotel bed.

Create your child's crib in the pack-n-play.  Bring everything your child loves in their crib with you while traveling! If your child likes a certain pillow, bring the pillowcase and find a similar pillow at your destination. I always bring a crib sheet from home so it has the scent and softness my daughters are used to. 

Make sure to always have 'lovies', blankets, favorite stuffed animals, pacifiers, and sound machines with you!  A sound machine will also be very helpful in drowning out noise if you stay up later than your kids in the room or your 'neighbors' down the hall sound like they are having their own personal party. 

Keep naps and bedtime at the same time to the best of your ability.  This can be a bit tricky when on vacation and trying to make the most out of every day, but when your kids are in a better mood because they have gotten the sleep they need then the day will be more enjoyable overall. If your baby is still taking 2-3 naps/day I suggest trying to get at least one nap per day in the hotel pack-n-play so they can catch up on some sleep they may have lost when on-the-go. 

Darken the room, creating an environment that doesn't stimulate. You can also buy portable travel blackout shades that may be very beneficial to extend sleep for daytime naps or in the early morning. 

Use the same technique as you would at home to handle nighttime wake-ups.  Don't push it if you are in a place that isn't conducive to a child crying but allow a few minutes before taking your baby out of their pack-n-play. 

If you are changing time zones we urge you to adapt to the 'new' time zone as soon as possible.  It may take a day or two for your child to adjust to different feeding and sleeping times but they'll get there! 
So how do you get back on track once you return home?  You may be changing time zones again or some bad habits may have formed while out of your child's normal sleep environment.  As soon as you return home, get back into your child's routine.  If they are now fighting naps, bedtime, and/or waking in the middle of the night (when they used to sleep through the night before vacation), you will go right into your sleep training method of choice to get them to sleep and stay very consistent with it so they get that same message over and over. 
Also, it's not uncommon for some newfound separation anxiety to appear after a vacation when your child was spending SO MUCH time with you.  If this happens then just make sure you are spending as much time with them as you can when it's not time for them to sleep.  If you have to go back to work, try to get that one-on-one time with them during their bedtime routine.  You will do the same thing listed above; use your sleep training method to get them to sleep so that no new bad habits form.  I know it's not easy seeing your baby cry for you but just hold on to the fact that they will be much happier and enjoy their time with you when they are getting the age-appropriate amount of sleep they need! 
We, at The Cradle Coach, are here for you.  If you are already dreading an upcoming vacation because your baby/toddler isn't sleeping well at home or if you have returned home and are having a hard time breaking any bad sleep habits that may have formed when out of town, contact us.  Enjoy the rest of the summer!!!