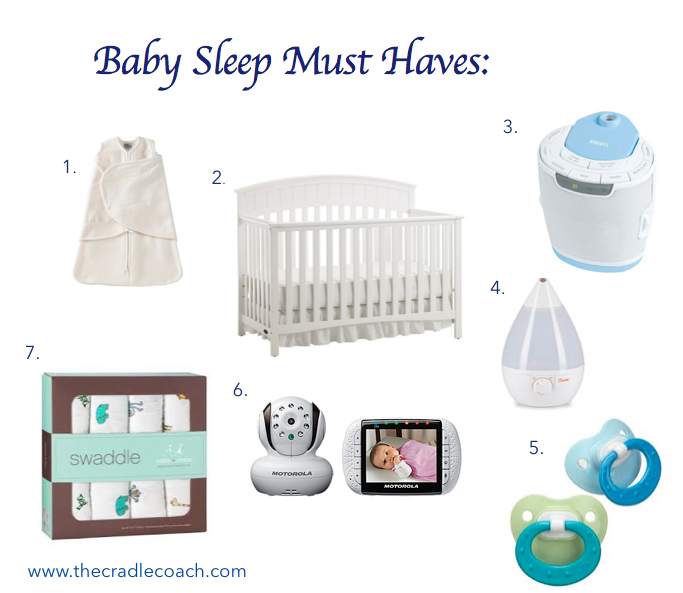 1. Halo Swaddle Sack: The Halo Sleep Sack Swaddle replaces loose blankets in the crib that can cover your baby's face and interfere with breathing. In addition to helping your baby sleep safer, it helps him sleep better, too. Its adjustable swaddle wrap immobilizes your baby's arms to prevent the "Moro" or startle reflex. This swaddler is comes in all types of texture and material.
2. Graco Charleston Convertible Crib – Add instant charm to your nursery with the classic Charleston Crib. With vintage good looks, romantic lines and a touch of history, it's sure to beckon many sweet dreams. Gender neutral, this design can fit any theme or classic room scene.
3. Homedics Sound Spa Lullaby Relaxation Machine – This sound machine has 6 soothing sounds, rotating picture projection and an auto-timer. Your baby will love the motion projection, with 3 image disks to choose from. The projection can be rotated onto wall or ceiling and the simple sound buttons make it easy to find the exact sound you need to relax and soothe your baby to sleep.
4. Crane Drop Humidifier – Use this humidifier at night when your baby has a stuffy nose at night. It works wonderfully and puts out a good stream of mist. You can really feel the change in humidity and babies seems to be able to breathe better at night after using it. And how cute is this design!
5. NUK Silicone Pacifier – This is always a personal choice. For me, I don't mind paci's. Babies have a natural desire to suck so these just help with that desire.
6. Motorola MBP 33 2.8″ Color Video Baby Monitor – The sound, ease of use, picture clarity and size of this screen monitor are great. It is durable and has a lot of cool features. I love that you can talk to your infant/toddler and let them know you are there.
7. Aden+Anais Swaddler – Once your baby is out of a swaddle and are old enough to handle a loose blanket in a crib, you can use these unbelievably soft blankets. The cozy aden + anais oh my! muslin wrap is crafted from soft, muslin fabric that provides air flow and ultimate comfort. Generous size makes swaddling easy. Also works great as a stroller cover, nursing cover and more.