Getting Your Baby's Room Ready For Sleep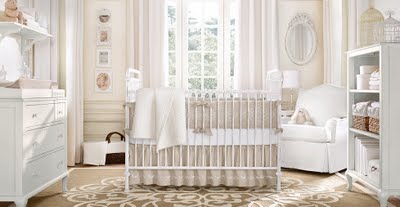 Restoration Hardware Photo
Setting the stage for your baby's sleep is an important element for success. Here are a few of the ways to get your nursery ready for the perfect sleep.
Darkness
Use room-darkening shades, heavy curtains, and/or miniblinds to block out the sunlight from windows. We love the Blackout EZ Window Cover – Large (45″ x 66″) Black/White
. It makes the room completely dark, allowing for a cozy night of sleep without any distractions!
White noise
The steady hum of background noise, from a fan or a crib soother, help cover up errant household/neighborhood noises. It also serves as an audio cue, just for the nursery, of when it's time to go to sleep. The two sound machines we recommend to our clients are the Marpac DOHM-DS, Natural White Noise Sound Machine
and the HoMedics Sound Spa Relaxation Machine
.
A Comfortable Crib
The place where your child sleeps should be comfortable. This is more of a safety and convenience tip, but the crib should be clean and clear of loose items before the baby goes in. We prefer to place your baby on a organic mattress like the Sealy Soybean Serenity Organic Crib Mattress
. Finding organic soft crib sheets like the Burt's Bees Baby Organic Solid Crib Sheet
will not only create comfort but will allow warmth as your baby sleeps soundly. Some babies deal with reflux as a newborn and have a hard time laying down on a flat surface. We often recommend using a crib wedge like the DexBaby Safe Lift Universal Crib Wedge
. This slight elevation will help elevate your little ones head without creating a safety issue.
Breathable Bumpers
Breathable crib bumpers like the BreathableBaby Breathable Mesh Crib Liner
are important to use purely for the safety of infants. They aren't the prettiest thing but it can protect infants from smothering their faces against a regular crib bumper. Some infants have even been able to entangled themselves in the cords that are used to tie crib bumpers on.
A Good Monitor
I prefer a video monitor like the Motorola MBP36S Remote Wireless Video Baby Monitor
so that I can see what is going on with my little ones but a sound monitor works just as well. It's really important to have a monitor that doesn't produce much of a light that can easily stimulate your baby. When you need two cameras to view multiple rooms, I highly recommend purchasing the Motorola Digital Video Baby Monitor with 2 Cameras
.
Baby Proofing Close to the Crib
As your little one grows, they will be able to lift themselves up in the crib. Once this milestone happens, be sure to clear anything 5 feet away from the crib. Your baby will be able to reach for things and bring them into the crib. Always prepare by childproofing before milestones like this are reached. You can buy a kit like Safety 1st Essentials Childproofing Kit
that includes most items you will need to protect your child's room. You can also protect the crib rails with products like Trend Lab Fleece CribWrap Rail Covers for Crib Sides
that allow for teething and climbing to be more challenging for your little ones. It's always better to be safe then sorry.