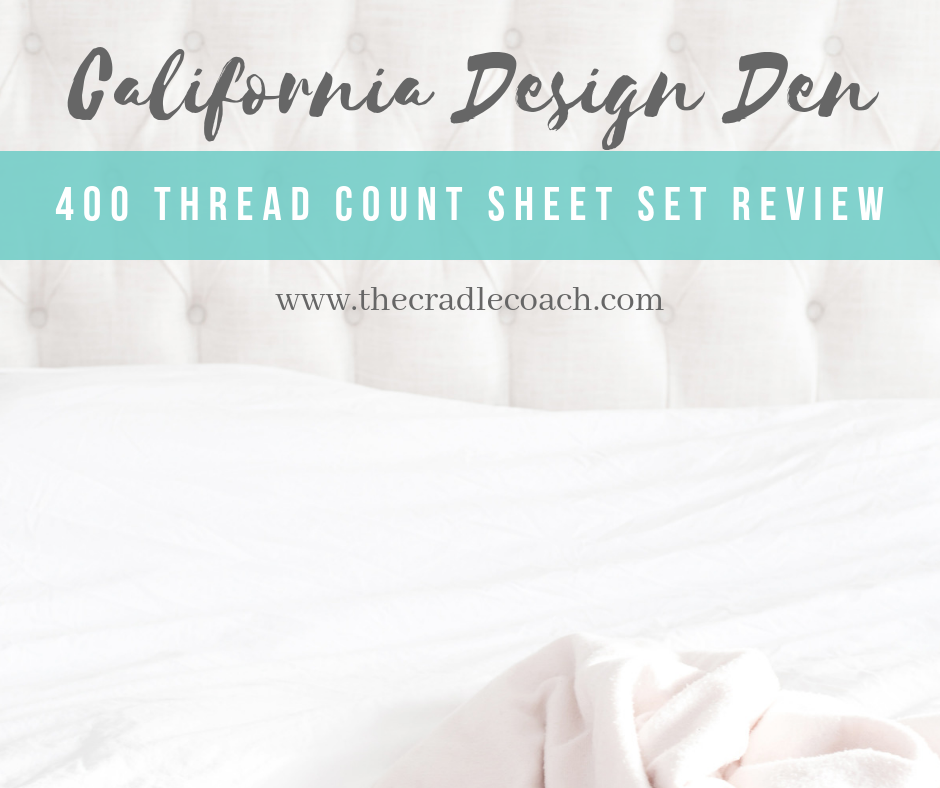 Sleep is just as much important to mom as it is for our kids! And who am I kidding, bedtime is one of my most favorite times of the day. Kids are in bed, house is cleaned from the memories created in that day, and time for myself is in order. For that reason alone a good mattress and the coziest sheets are essential to add to the quality of my sleep. And did you know you spend 1/3 of your life in bed? Getting quality shut-eye is so important and can include the same tips as we create for our children such as keeping your bedroom cool and dark, banning electronic devices, and going to bed at the same time each night (and making that a reasonable hour).
But what about the sheets you're sleeping between? Do they need to be super-expensive to provide a good night's sleep?
The best bed sheets don't come cheap, but we found ways to get around those high price tags. I recently had the opportunity to review California Design Den 400 Thread Count 100% Cotton Sheet Set and was I pleasantly surprised.
The set was delivered quickly and after opening the package, I could feel the comfort with the first touch. These sheets don't only look and feel like a quality product but they're also a great value compared to others we've tested. A combo that's hard to find. The fitted sheet is ribbed all around and have helpful labels to show you what side is the front verse the bottom which in my opinion is everything… no more guessing for many sheet challenged folks like myself.
We have a King mattress, with a pillow top from Agility Mattress; and the sheets fit perfectly! They feel like what a quality cotton sheet set should feel like – cozy and comfortable. These sheets are breathable, 100% Organic cotton, imported from GOTS Certified Farms and ethically manufactured in India and come from natural grown cotton with no pesticides, and are hypoallergenic, pure, and natural. They aren't the softest sheets ever, but because they are cotton, they will get softer as they age. And I find these keep me cooler which makes my husband thrilled as I don't have to create a frozen tundra as we sleep.
For the price, this cotton sheet set is a bargain. The sheets are thick and should be durable. The only disappointment is that the pillow cases run a bit narrow with my extra large pillows. They fit our regular size pillows perfectly.
Overall, I was quite pleased with my new sheet set and might actually try their 600 or even 1000 thread count set next time.
Now you can win your very own California Design Den sheet set, and sleep at night on cool crisp sheets. Go ahead and start imagining your amazing nights rest, right now. It's time to give yourself a full quality and comfortable night's sleep this new year. Check out their website for all the amazing designs and colors to choose from – https://californiadesignden.com