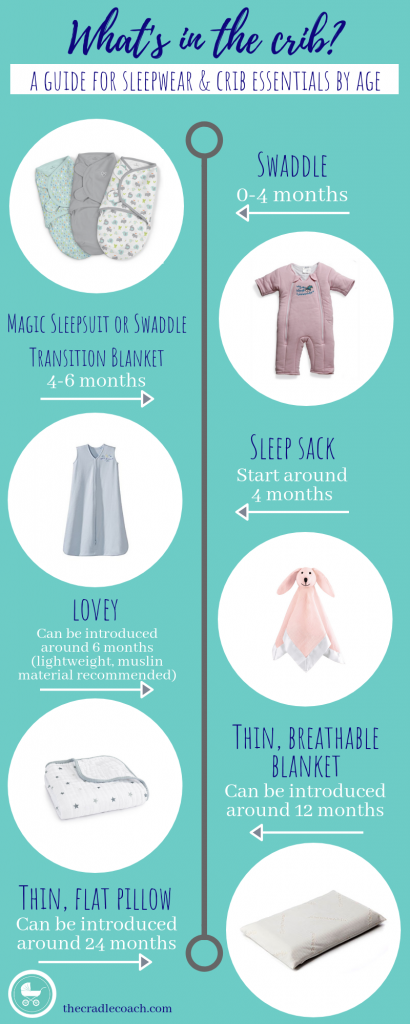 Ensuring baby sleeps safely is something that keeps mamas everywhere up at night, understandably. We stress over the temperature, the dreaded transition from back to tummy and anything that makes us question whether or not baby is happy and comfortable.
One of the most common questions we get has to do with what baby should be wearing over his or her pajamas at night. In the image above and explanation below, we've provided suggestions by age, specifying some of our favorite brands that work very hard to provide the safety and reassurance all mamas need. 
As usual, many transitions depend so much on each individual child and what you, as a parent, want for them; however, we hope this general guide provides you with some help and piece of mind when it comes to the sleepwear you choose and when you choose to introduce it! 
Newborn: Swaddle – nice tight, confining, and mimics the closeness of being in the womb
Around 4 months: Baby Merlin's Magic Sleepsuit or Zipadee-Zip (swaddle transition blankets) – these are great options for baby who still wants that confined feeling. Hands can be free, and baby feels super snug. 
Unfortunately, there is no way to transition out of these, so sometimes we recommend just skipping them completely; however, if a parent wants to go this route, we suggest coming out of the Magic Sleepsuit or Zipadee-Zip by the time baby is 6 months old.
Wearable Blanket or Sleep Sack – parents might choose to skip the items above and go straight to a sleep sack. This will allow the parent to know baby has an extra layer over them without placing an actual blanket in the crib.
Around 12 months: It is completely fine to continue using a sleep sack or wearable blanket at this age! There is no reason to come out of it unless the parent chooses to. It is around this age that some parents may choose to introduce a thin, breathable blanket so their child can start getting used to the idea of a blanket. Parents will see that even when they introduce a blanket, the child does not keep it on them at all through the night. They are too young for this and move around too much. This is why it is absolutely okay to continue using a sleep sack or wearable blanket! 
In fact, continue with the sleep sacks/wearable blankets as long as baby wants. We recommend getting baby out of it if he or she starts to unzip themselves. If a child is at risk of climbing out of the crib, it is a good tool to use to keep them in (a parent could even put them on backwards and inside-out to keep the zipper away from the child). But, there is no need to remove it from a child just because they are walking – unless the parent wants to!
Around 24 months: Parents can choose to introduce a thin, flat pillow to the crib, if they choose. Baby does not NEED a pillow, but some parents feel they will be more comfortable with this.