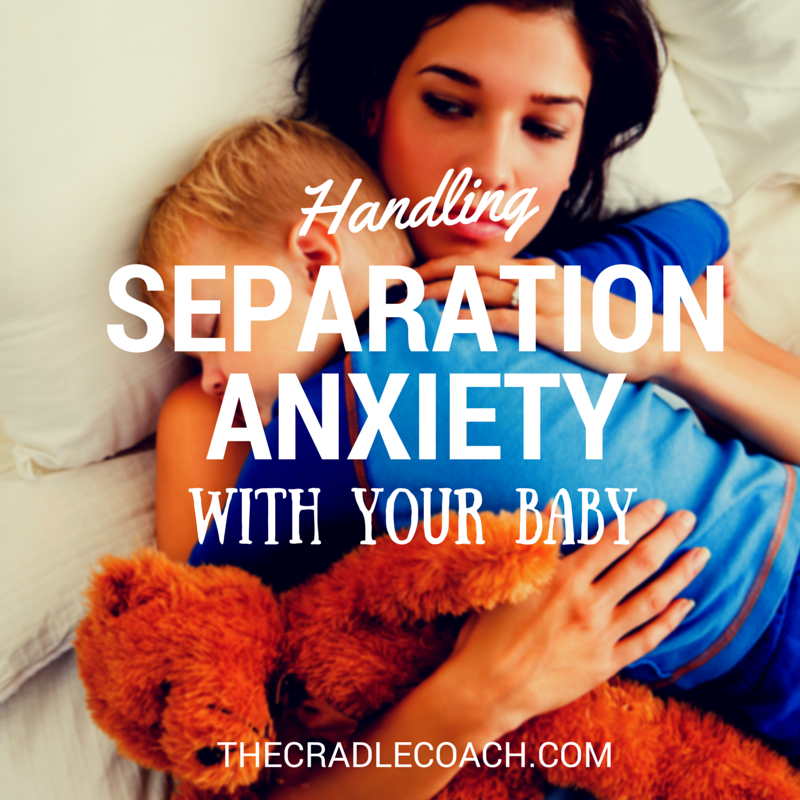 Separation anxiety usually occurs between 8-10 months old and can last what seems like forever (atleast with my children). At first, I had thought my children were teething or even coming down with an illness, but after a week of no other symptoms from either, I knew they must have been going thru anxiety of being away from me.
Often times separation anxiety starts off with a sudden change in their routine. Whether it's moving houses or starting a new babysitter, their uncertainty of change which leads to anxiety occurs. If you are noticing that your baby suddenly starts crying each time you leave the room or they cling to you for dear life, try using these three simple tips at home:
1. Spend EXTRA quality time playing with your baby during the day. Playing 'hide and seek' with your baby during the day allows the opportunity for them to not see you for a moment or two and you return to their view happy. A good place to do this is in their crib so you can create a positive association around their sleep environment. Do this a few times so they can see that the end results are that they are safe and you will return soon.
2. Give them a security object. By giving your baby a lovey (soft toy or blanket) as a comforter during these phases, they will begin to develop an attachment to something other than just you. Eventually your baby will start to understand the concept of object permanence more clearly and will know that even if he can't see you physically you are still there.
3. Extend your bedtime routine. Give your baby a chance to separate more easily from you at night. Spend more time in the bath, and read a few more books than usual. You can begin this by starting your bedtime routine fifteen minutes earlier than usual so that you don't harm the set bedtime.
In all you do during this phase, building them up and giving them confidence is the best tool. Continue on giving them quality sleep and give lots of extra kisses and snuggles. And remember, it's only for a season.