Hi friends! Mary Grace here, The Cradle Coach's social media director. As you might have seen on Instagram, I had the opportunity to try out the SlumberPod during a recent family vacation. I personally reached out to the SlumberPod team, and they were kind enough to gift The Cradle Coach our own SlumberPod to try out and review!
It was the first time my family of four (my husband, 3 year old, 10 month old and myself) had ever shared a single room! In addition to this new territory, Palmer, our baby girl who would be using the SlumberPod, had a cold. So, she hadn't been sleeping her best in the days leading up to our trip. Though I had heard amazing things about the SlumberPod, my expectations were still pretty low for this specific situation. 
Did I mention there was also a hurricane during this particular beach trip? Talk about great timing! Fortunately, I was shocked (and relieved!) with how smooth our experience was.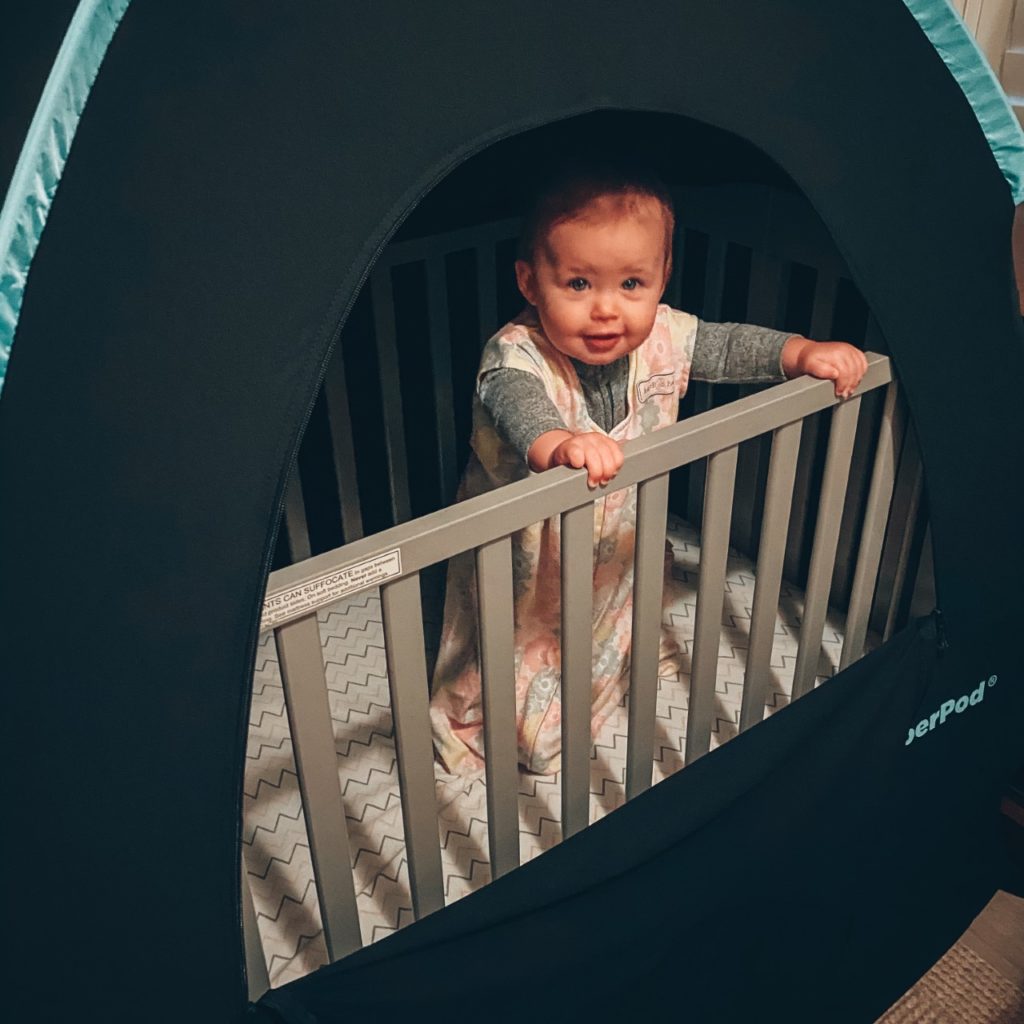 I could take you through our schedule and describe each nap and total daytime sleep, but the truth is…not much changed in comparison to our typical days. Both of her naps were usually 1-1.5 hours, and she went to sleep each night sometime between 6 and 6:30, waking 12 hours later each morning. 
Before I highlight my favorite things about the SlumberPod, let me tell you a little more about the portable privacy pod (in case you're unaware):
SlumberPod is bottomless, completely enclosing standard playards, mini-cribs (this is what we used) and select toddler cots, giving a baby or child their own dark and private sleep space (like at home). It was created by moms for moms to make traveling with little ones less stressful.
When it comes to safety, SlumberPod passes all applicable consumer product safety tests for baby products and was also assessed for CO2 rebreathing by an independent lab and their appointed physician. All safety tests were conducted with the ventilation flaps closed.
So, here are my favorite features:
Stress-free set up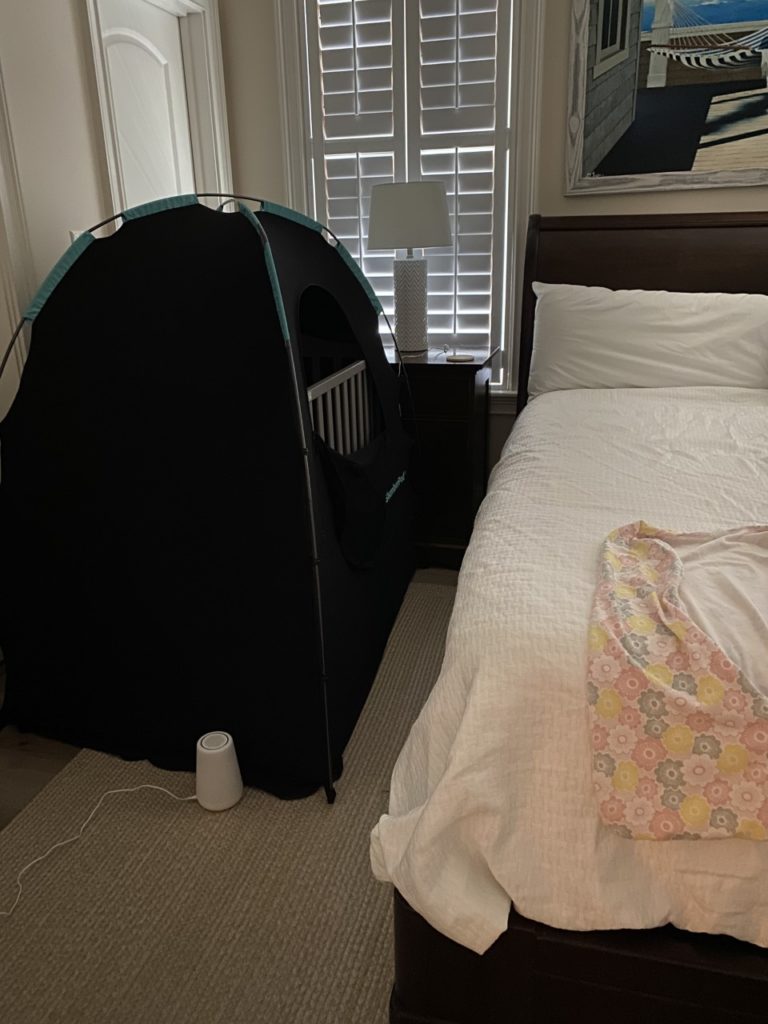 You know when you're traveling with kids, and you arrive at your destination just in time for nap or bedtime? When you're already exhausted, the last thing you want to do is frantically tape black cardboard or paper blackout blinds to the windows (been there, done that). The struggle to recreate our children's sleep environment is real. 
Not having to worry about totally blacking out the room was like a dream, and it took me less than 5 minutes to assemble the very compact SlumberPod. 
Side note: taking the SlumberPod down and packing it up took maybe 3 minutes!
I see you, but you can't see meeeee!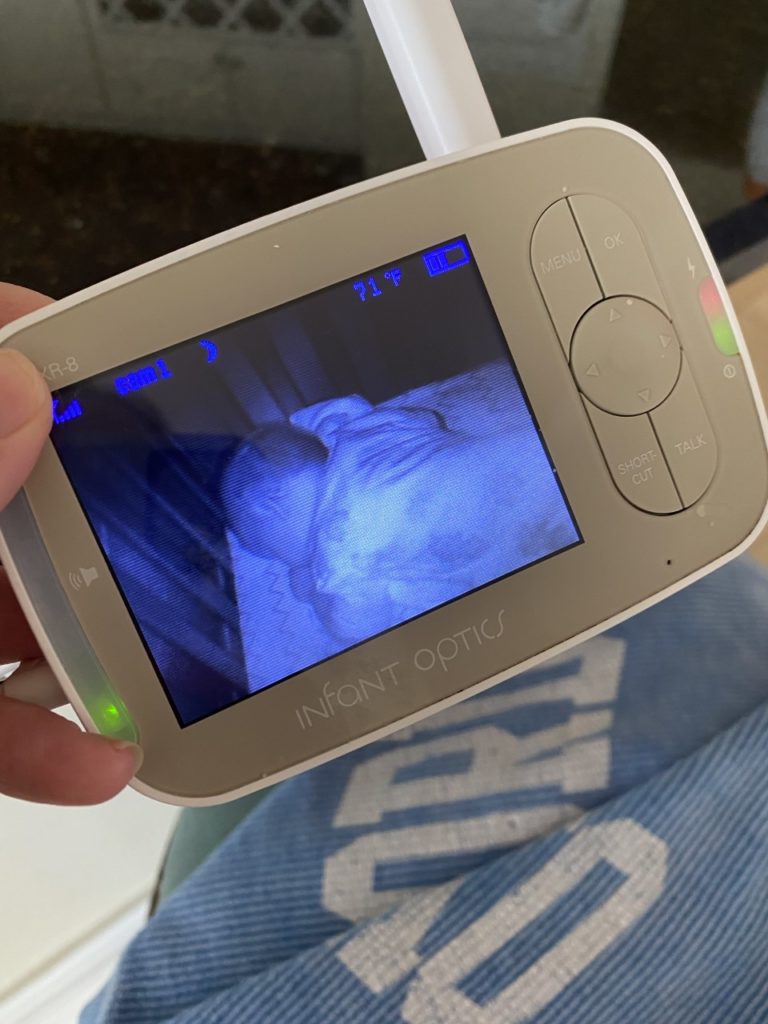 The baby monitor pouch accessible from the outside of the SlumberPod worked like a charm. Our Infant Optics camera fit perfectly, and the clear vinyl didn't disrupt the view much at all. I was a little nervous about how Palmer would react after we zipped up the pod the first time, so I loved being able to see her response. To my surprise, she looked around for a minute or so and quickly laid down, sucking her thumb. 
The fact that Palmer couldn't see anything outside of the SlumberPod was the ultimate game-changer. If we forgot something in the room, sneaking in to grab it was easy. Putting our toddler down at night after Palmer was asleep was seamless…thanks to the SlumberPod AND two sound machines. There's only so much you can do about a sleepy singing toddler!
Don't forget…
While the SlumberPod did save us when it comes to room sharing, I do want to emphasize the real reason Palmer slept so well throughout our trip: she was sleep trained around 4 months old with the help of The Cradle Coach's one and only Rachel and her incredible one-on-one support. Without a solid foundation, sudden changes in sleep environment (coupled with sickness) would have totally thrown us off — understandably so! 
I'm guilty of trying all the swaddles, sleep sacks, bassinets and generally every baby-sleep-related product on the market during the newborn days with the hopes of finding a magical solution for sleep deprivation. If you read my SNOO review, you know…one single product can't get the job done. 
It's patience, consistency, having a PLAN and sticking to it that ultimately leads to that solid sleep foundation all parents want give to their babies! Looking for a plan? You're in the right place.
You can use our coupon code CRADLECOACH$20 for $20 OFF when you place your order for… SlumberPod 2.0! 
The new design includes a new fan pouch (fan sold separately or as a bundle with SlumberPod 2.0) and two new "fly design" ventilation flaps located on the back of SlumberPod. Additionally, the monitor pouch is now higher on the pod for increased visibility. The new location allows for the camera monitor to be inserted horizontally in order to capture the entire playard or mini crib.