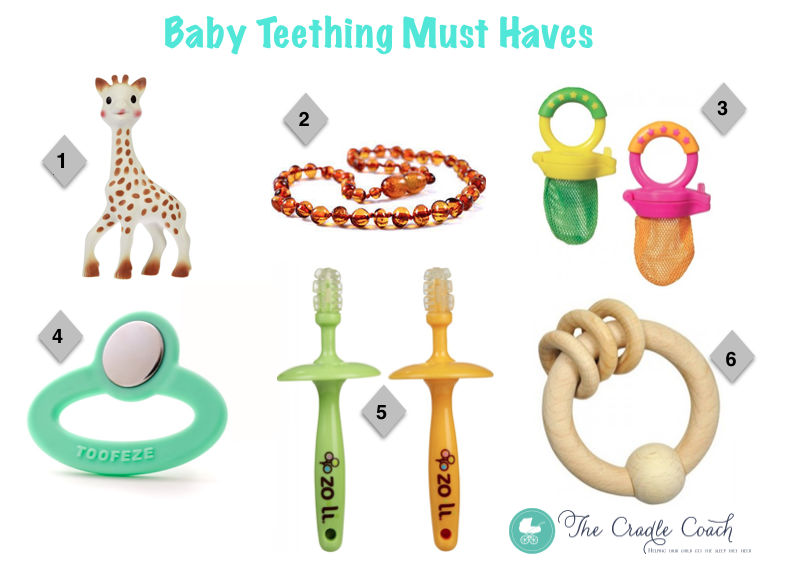 1. Sophie the Giraffe Teether: The teething toy that does it all. This popular giraffe awakens a babies full sensory but most importantly helps soothe baby's sore gums. Sophie the Giraffe is very flexible and has lots of parts for baby to chew like ears, horns, legs. Made of 100% natural rubber and food paint. Sophie is Phthalates and BPA free.
2. Baltic Amber Teething Necklace – All the mom's are raving about this necklace! Baltic amber necklaces are made for wearing (not chewing) when a baby is teething to reduce inflammation in the body. The warmth from the skin releases the active ingredient in the Baltic amber, succinic acid. It improves immunity and the balance of acids when absorbed into the bloodstream; it stimulates the thyroid glands to help reduce drooling when used for teething and soothes red inflamed cheeks.
3. Munchkin Mesh Teether/Feeder – This award-winning product allows your baby to enjoy lots of delicious foods without the choking risk. Simply put a piece of fruit, vegetables or meat into the mesh bag and snap shut. Your baby can chew, suck and enjoy all the whole food goodness and taste, with only the tiniest, digestible pieces coming through. Your baby gets great flavor and you get great peace of mind.
4. Toofeze Baby Teether – Simply the coolest baby teether ever. What makes toofeze so cool? Toofeze chills instantly in cold water to ease pain fast. Like a teaspoon with a baby-safe handle, toofeze is simply a new twist on an age-old teething remedy. The stainless steel disk satisfies babies' innate craving for cold, smooth objects.
5. Zoli Gummy Sticks Baby Gum Massagers – Teething babies will welcome these soft gum massagers, because their rubbery, textured nubs offer excellent teething relief, even for hard-to-reach molars! And because they look and feel like a baby toothbrush, they instill good brushing habits from the start.
6. Wooden Ring Rattle/Teether – This natural wood ring not only entertains but can be used for a nice teether. The small wood rings can entertain the mouths of babies. There is no coatings, stains, or paint on this toy, making it safe and natural.