Hi friends! Jamie is back to tell us about her favorite swaddles and wearable blankets. When it comes to safe sleep, one of the most important things parents can do is to remove everything – we mean everything – from the crib. A lot of parents worry that their little ones might be cold at night without a blanket, which is why there are a variety of swaddles and wearable blankets on the market that are not only safe, but may also help your little one sleep significantly better!
My youngest, H, has tried five – FIVE –  swaddles and wearable blankets in his short life. I couldn't sleep train him until he was about 10 months old for a variety of reasons, so I was willing to try anything to get him to sleep for longer stretches.
I'm pretty sure we spent hundreds of dollars on these things. We were desperate! I'm going to save you some trouble and hopefully some money by helping you to decide what type of wearable blanket will work best for your little one. Ready? Here we go!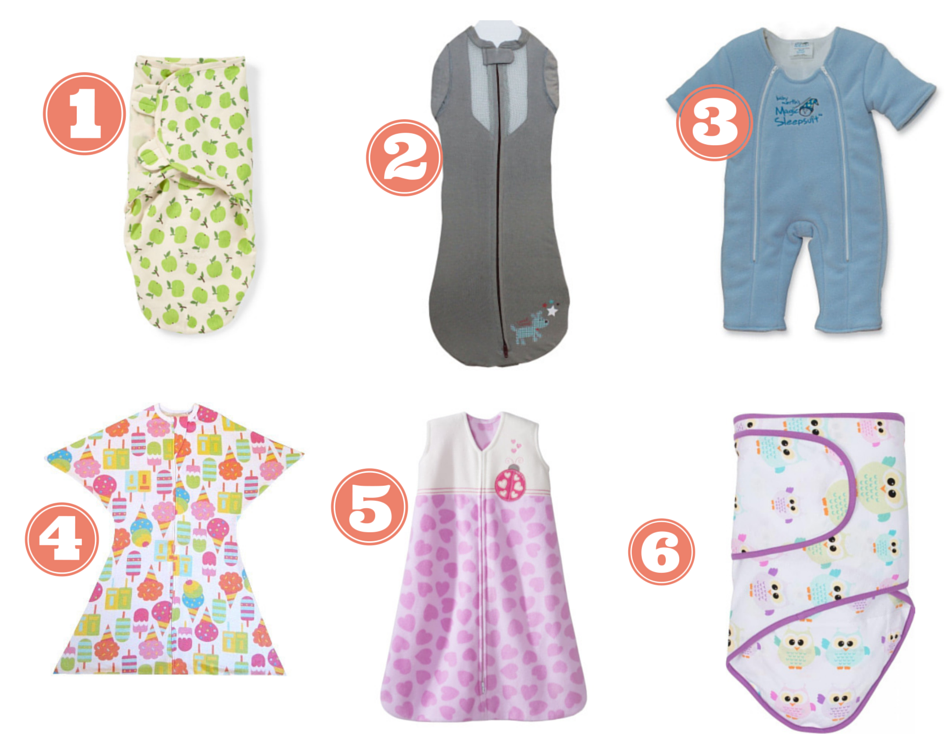 1. Summer Infant SwaddleMe Adjustable Infant Wrap,  2 pack, $15 on Amazon: Both of my boys wore these wraps pretty much as soon as they were born. It takes the guess work out of swaddling, which is great for tired parents and babies alike! Plus, you don't have to worry about the blankets coming undone thanks to the extra-tough Velcro. My oldest, O, slept in a SwaddleMe until he was about 5 months old, but my youngest busted out of it around 3 months of age.
2. Woombie Air Ventilated Baby Swaddle, $26 on Amazon:  Nothing was more frustrating than re-swaddling H over and over again once he figured out how to wiggle out of the SwaddleMe. Enter the Woombie. This swaddle is fantastic because it gave H the freedom to move his arms while also keeping him cozy and secure. We purchased the ventilated model because we live in the South and H tends to get warm while he sleeps. While he only wore it for about 6 weeks (he was an early roller), it did work well.
3. Merlin's Magic Sleep Suit, $39.95 on Amazon: Once H started rolling over, we had to transition away from the Woombie to something that he either could roll freely in or not at all. A friend of mine recommended Merlin's Magic Sleep Suit, which looks a lot like a fleece snow suit. The suit is design to keep a baby on his back and also help muffle his reflexive startles. My friend swore by this suit for her little one, so I'm sure it works well for a lot of babies. H? Not so much. He got really, really hot in it. H also preferred to sleep on his side, and the suit prevented him from doing that. (Always place your baby on his back to sleep. H was just stubborn and would roll as soon as we laid him down.) All of that to say that if your baby prefers to sleep on his back and has grown out of a swaddle blanket, this might be the suit for him!
4. The Zipadee-Zip, $34.95-$38.95, zipadeezip.com: And this is where we come to the end of our search for the prefect wearable blanket. I owe many restful nights and great naps to this little invention. It is definitely my favorite of all that H tried. It gives the baby freedom to move his or her arms and legs, roll over, sit up and even stand, but it provides just enough security to feel safe and cozy. After putting on the Zip for the first time, H started taking longer naps and slept in longer stretches at night. We have bought Zips in every size, and he will probably continue to wear it until he's 15. (I joke. Although the Zip probably would keep him from sneaking out of the house, so …)
5. The Halo Sleep Sack, Prices Vary: While I haven't used the Sleep Sack on my youngest (read above), my oldest wore it until it was about 15 months old. This wearable blanket, while basic, is great for a baby who needs something to stay warm but isn't old enough to have a loose blanket in his crib. As soon as we pulled out the sleep sack, O knew that it was time to sleep, and he would gladly toddle to his crib for a nap. We loved the sleep sack!
6. The Miracle Blanket, $30.99 on Amazon: This is the only blanket that we have not tried, but since it's so popular I thought I would include it in the list. The Miracle Blanket is very similar to The SwadleMe, except it doesn't have Velcro. The "wings" of the swaddle wrap around the front and back of the baby, making it extra secure. I've had friends who have used this for their babies and swear by it.
So there you have it! Have you found a wearable blanket that works well for your little one? Leave a comment on our Facebook page and let us know what you've discovered!